There is a wealth of knowledge about every conceivable topic on the internet, including photography. In this post, you will find 10 awesome photography blogs filled with useful photography tips, resources and information for both beginners and more advanced users. From tutorials to gear reviews to helpful techniques and much more, these 10 blogs have all the information you will ever need about photography. The blogs listed below are in no particular order.
Digital Photography School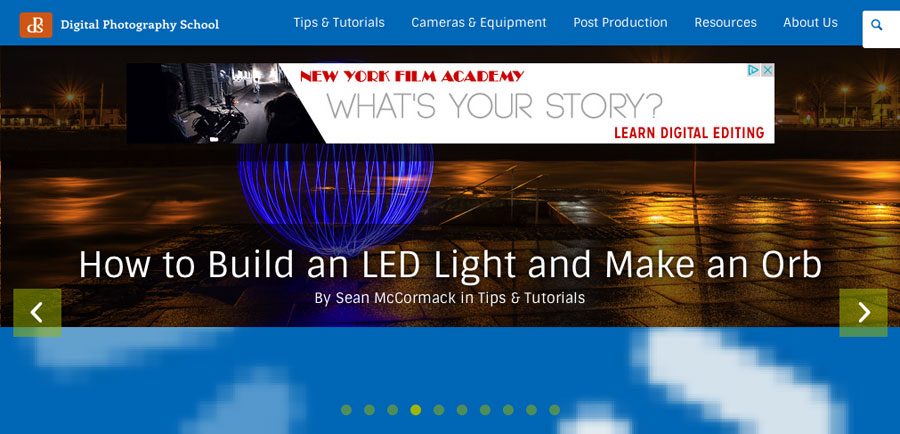 Digital Photography School is a website founded by Darren Rowse, an Australian blogger who – along with 75 other authors – aims to teach beginners all about photography. He previously owned and operated a digital camera review site, where he received many emails from readers asking for tips on how to use their digital cameras. Because of this, he decided to create Digital Photography School. It is not a formal school, but rather an online learning environment with tons of free information for the beginner to semi-experienced digital camera users.
PhotographyLife

Photographylife is a blog founded and run by Nasim Mansurov, who became interested in photography after his first child was born. Dissatisfied with images taken on a point and shoot, he purchased a DSLR and started to learn about digital photography. He, along with his wife and the other contributors on the site, write a variety of insightful posts about a wide range of photo-related topics, including: camera/lens reviews, photography tutorials, post processing and much more.
Fstoppers

Fstoppers was founded in 2010 by Lee Morris and Patrick Hall, and has grown into one of the leading online resources for photography industry news. The Fstoppers community's goal is to educate and inspire photographers, videographers and other creative professionals. They have a very active community where people are encouraged to share their work, and leave constructive criticism on others' images.
Fro Knows Photo

Fro Knows Photo was created by photographer Jared Polin in 2010. He started it with the idea of creating "fun and informative" videos to help photographers of all skill levels. He delivers a wide variety of unique content on his website, most in the form of video. Jared provides helpful series, including a "Real World Review" where he tests all kinds of gear and "Rapid Critiques," in which he provides constructive criticism to his viewers who submit their images.
Light Stalking

Light Stalking is a photography blog that "exists to help you improve your photography." It features comprehensive guides about the basics of photography, including such topics as the exposure triangle and the fundamentals of composition. They urge you to join their photography community where you can share your pictures and get constructive feedback.
PetaPixel

PetaPixel is a site dedicated to bringing you the latest photography and camera news, reviews and inspiration. Founded in 2009 by Michael Zhang, they create original content and re-publish posts from other sites as well. PetaPixel has a lot of unique photography tutorials, including "Shoot Hazy and Ethereal Photos Using a Sandwich Bag and Colored Markers" and "How to Build a DIY Camera Stabilizer Using LEGO."
Improve Photography

Improve Photography is a website founded by lawyer-turned-photographer Jim Harmer. After graduating from law school and passing the bar exam in Florida, he decided to pursue photography full-time and created Improve Photography. In addition to helpful blog posts ranging from photography basics to recommended gear, Mr. Harmer also has a podcast and offers photography workshops all around the world.
Cambridge in Colour

Cambridge in Colour is a "learning community for photographers" that was founded in 2005. It was originally created as a site showing photographs taken in and around the University of Cambridge in the United Kingdom, by scientist and photographer Sean McHugh. Since its founding, it has grown into an excellent resource for photographers looking for highly-visual, in-depth content on a number of photography-related topics.
The Phoblographer

The Phoblographer is a blog founded by Chris Gampat, a former paparazzo. It delves into the psychology of photographers as they shoot. In addition, the site offers gear reviews, tips, tutorials, news and much more. The Phoblographer creates concise photo tips that are easy to read and put into practice, and even offers photographers the chance to have their work featured.
Luminous Landscape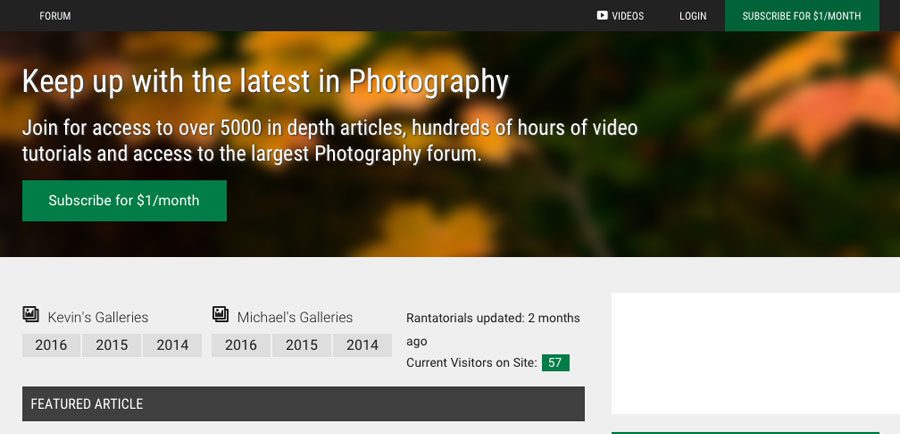 Luminous Landscape is a well-established photography blog that was started in 1999. Since then, it has been a source for photographers all around the globe, providing helpful tutorials, articles, essays and videos about photography. It currently has over 5000 published posts, and receives more than 1.2 million visitors every month. The website also has a forum where users can have their questions answered and upload images to be critiqued. A subscription to Luminous Landscape will only cost you $1 per month.
What do you think of this list of 10 Photography Blogs Worth Reading? Did I miss any great photo blogs that deserve to be on it? Feel free to leave a comment letting me know what you think.
Did you like this post? Feel free to share it and subscribe to our newsletter for helpful photography tips, resources and information delivered straight to your inbox. Simply enter your email in the opt-in above. Your email address is safe with us, and we will never share it.