Instagram is a great tool that photographers – and other creative types – can use to gain exposure. There are a number of methods to garner a relatively large following of people who genuinely appreciate your work. Using relevant #hashtags on Instagram is crucial as it allows people to easily find your artwork. In this post, I will list 10 awesome photography-related #hashtags you can use to get featured on popular curated Instagram profiles. If you manage to get featured by one or more of the following photo communities on Instagram, it can help boost your exposure and following on Instagram. Remember, only submit your very best work. The Instagram profiles below are in order of follower count, from low to high.
1. #fisheyelemag
Fisheyelemag is a French photography magazine (available online and in print) featuring a wide array of unique images from photographers around the world. They showcase a variety of photographs on their Instagram profile, from landscapes to portraits and much more. To be featured, use the hashtag #fisheyelemag.

2. #minimalzine
Minimalzine is an independent platform for creatives to share their view on modern visual culture, with a focus on minimalism. They do this through design, photography and other art. Post your best minimalistic photographs with the hashtag #minimalzine for your chance to be featured on their profile.
3. #ifyouleave
Ifyouleavestagram showcases a wide array of modern photography, and supports up-and-coming artists both on the web and in print. They curate photos from tumblr, flickr and Instagram. Use the hashtag #ifyouleave on your best work for your chance to be featured.
4. #justgoshoot
Justgoshoot provides exposure for talented photographers and to bring the photography community together. They offer daily features, a supportive culture and showcase variety of unique imagery by talented photographers from around the world. For consideration, use the hashtag #justgoshoot.
5. #myfeatureshoot
Featureshoot shows the work of emerging and well-known photographers from around the globe who are changing the medium through a wide range of profound, innovative photography projects. Their profile features work from their photo website, as well as images taken by their Instagram followers. Want to be featured? Use the hashtag #myfeatureshoot on your best images.
6. #visualsoflife
With over 150,000 followers, visualsoflife is a sizable photo community comprised of creatives who aim to discover and inspire through photography. To submit your photos, include the hashtag #visualsoflife on your best shots.
7. #artofvisuals & #AOV
Art Of Visuals is a niche photography community on Instagram with a very large following. Visit their profile to learn how you can join the AOV community. In addition, you can download their digital photography magazine. To submit your photographs for consideration use one of the following hashtags: #artofvisuals or #AOV.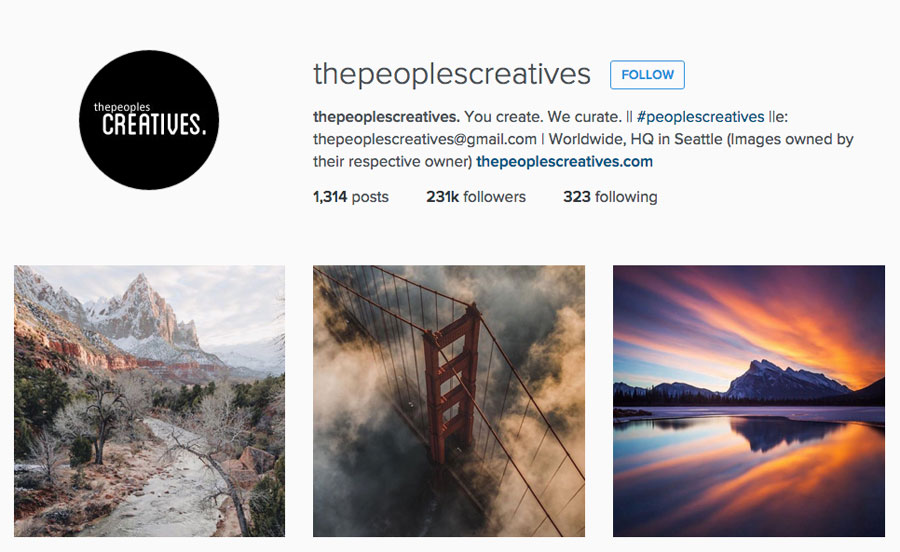 8. #peoplescreatives
Thepeoplescreatives features a wide variety of unique photography, including portraits, landscapes and nature shots. For a chance to have your photography featured on their page, tag your photos with #peoplescreatives.
9. #exploretocreate
Thevisualscollective displays a diverse collection of photographs, including cityscapes, night scenes, landscapes and much more. For your chance to be featured on their Instagram profile, include the hashtag #exploretocreate on your best shots.
10. #watchthisinstagood
Instagood is an enormous photo community on Instagram with over 800,000 followers. Their motto is "inspire to be inspired" and they are currently using a new hashtag #watchthisinstagood. All photographs submitted are credited to their respective owners in the caption.
Can you think of any awesome photo community #hashtags that I may have missed? If so, leave a comment with the #hashtag and name of the Instagram profile.
Did you like this post? Feel free to share it and subscribe to our newsletter for helpful photography tips, resources and information delivered straight to your inbox. Simply enter your email in the opt-in above. Your email address is safe with us, and we will never share it.