Are you in need of high-quality photos for a personal or commercial project? There are instances where paying for quality imagery is simply not in the project budget. In these cases, it makes sense to find the best possible photos you can without having to pay anything for them. This post will provide you with a list of excellent free stock photography resources you can use. Some of them are very well-known, while others are not.
Even though many of the images on these sites are licensed under Creative Commons Public Domain, it's important to always read each site's licensing details for complete usage rights. Some of the images may require attribution.
1. Vecteezy
Vecteezy offers millions of free stock photos, in addition to free stock videos and free vector illustrations. They also offer Pro resources that require download credits or a paid subscription, but most of the content on the site is available for free. The sitewide search results will show both Free and Pro content, but you can use the search filter to see only the free resources if you'd like.
2. Stockvault
Stockvault has 84,546 free photos to download, and has a community of over 100,000 members. Make sure you select stockvault's image results, and not those associated with Shutterstock, which are not free. Generally, the free images are centered vertically between two Shutterstock paid photo sections.
3. Freerange Stock
Freerange Stock was created to provide free, high-quality stock photos for both commercial and personal use. The images on their site are shot by Freerange Stock, sourced from their archives or contributed by their growing community of photographers.
4. Free Photos Bank
Free Photos Bank offers a wide variety of free stock images on their website. They have photos in the following categories: abstract, architecture, computers & technology, food, nature, objects, transportation, life and miscellaneous. In addition to photos, they also have some computer-generated imagery.
5. Pexels
Pexels provides a wide variety of free stock photographs licensed under Creative Commons Zero (CC0). Their image library currently consists of over 15,000 free stock photos, and they add 3,000 new images every month. Their goal is to "empower creators" by giving them access to beautiful photos that they can freely use.
6. Foodies Feed
As the name suggests, this website consists solely of free food-related stock imagery. It is a great resource for realistic high-resolution images of food, as well as digital goods related to food.Food-themed images from Foodies Feed can be used for blog posts, articles, websites, and any other design projects.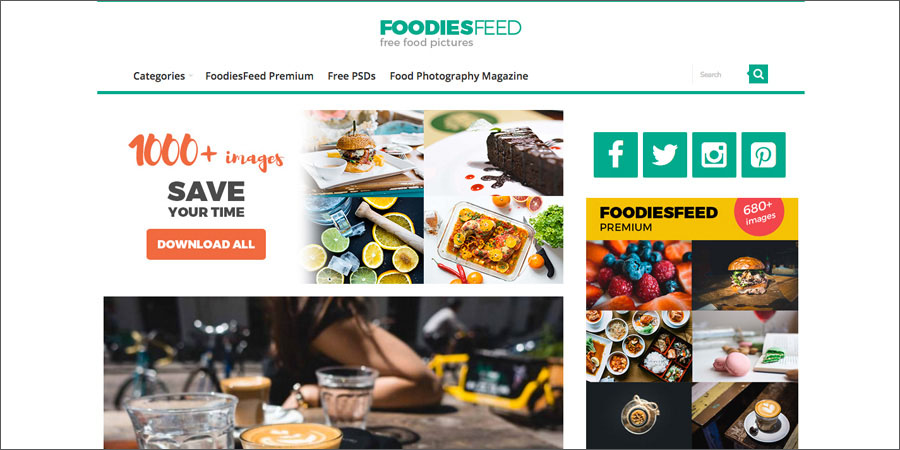 7. Free Images
Free Images is owned and operated by Getty Images, and offers a wide array of free stock photos. They currently have over 380,000 free photos available for download on their site. In the image results, make sure you choose the photos that are not in the gray box, as those are premium images from iStock by Getty Images, and are not free.
8. StockSnap
StockSnap only chooses high-quality, high-resolution pictures and adds to their collection on a daily basis. They curate free stock photos from other sources on the internet, and also upload images from select photographers in their own network. All the images on their site fall under the Creative Commons 0 (CC0) license.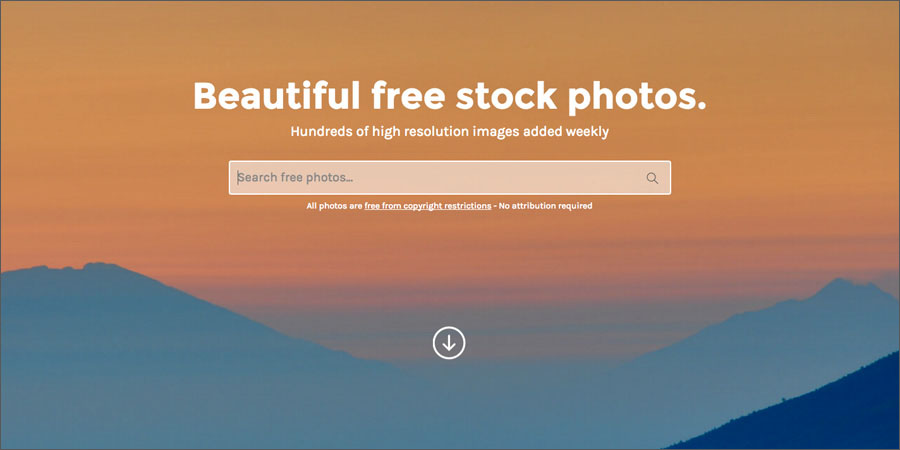 9. Unsplash
Unsplash presents their free stock photos in a vertical blog format, and adds dozens of photos every day. You can also subscribe to their email newsletter and receive a zip file with 10 new images every 10 days. They have a nice selection of unique images, including: landscapes, urban scenes, animals, portraits, interiors, abstract, food and more. It is regarded as an excellent source for quality, high-resolution free stock photos.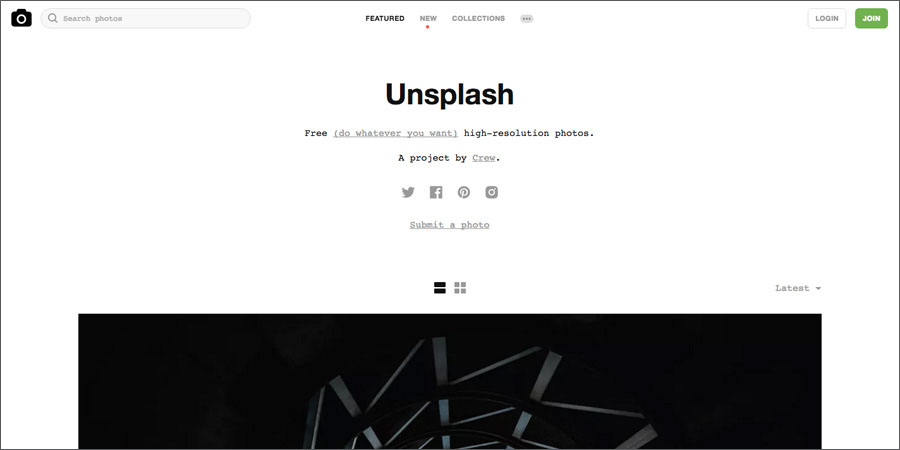 10. Gratisography
Gratisography is a free stock photo site with images created by Ryan McGuire, a graphic and web designer. His unique style of photography is very eye-catching, and is well-suited for a wide range of interesting creative projects. If you're searching for quality, attention-grabbing imagery, look no further.
11. Negative Space
Negative Space offers a wide variety of free stock photography from numerous categories, including: abstract, animals, black and white, food, nature, sport, technology, work and more. It lets you search for images based on color, and can even sort photos by their copy space position.
12. SplitShire
Splitshire is a website founded by Italian photographer and graphic designer Daniel Nanescu. He started it with the simple goal of giving life to images that would have otherwise continued to gather dust on old hard drives. Instead of letting these photos go to waste, he uploaded 100 high-resolution images, and Splitshire was born. His photos have been published on various well-known websites, including CNN and The Huffington Post, as well as in numerous books and magazines.
13. Life of Pix
Created by an advertising agency in Montreal, Life of Pix offers a nice variety of images. The images are nicely organized in the following categories: animals, beach, black white, city, construction, desk, food, industrial, nature, object, people, sea and texture.
14. Death to the Stock Photo
Death to the Stock Photo was created with the intention of helping brands create visually-appealing content, without spending a lot of money. Subscribers can sign up to receive a monthly photo pack with ten images of a particular theme. They have their own license rights which can be seen on their site.
15. Superfamous
The image section of Superfamous contains photographs taken by Folkert Gorter, a Dutch interaction designer. They may be used in both personal and commercial projects, provided credit is given. There is a nice variety of quality images, including some nature, urban and architecture shots.
16. Pic Jumbo
Pic Jumbo was created by the Czech photographer and web designer Viktor Hanacek in 2013. He started it after having his images rejected by other stock photography sites. The website has had almost 3 million image downloads, and now offers a premium membership with even more images.
17. New Old School
New Old School may be the most unique website on this entire list. It features a wide range of vintage photographs (some dating back to the early 1900s and earlier) from the public archives. The site was founded with the goal of "recapturing history," and offers all kinds of truly special images, including some of the Rolling Stones.
18. Im Free
Im Free offers free images and website templates. Since this list is about free stock photography sites, I'll keep it focused on that. There is an extensive image library on the site, with hundreds of images from all kinds of categories, including: people, business, technology, health, food and drinks, sports and fitness, education, nature, inspiration, recreation and more.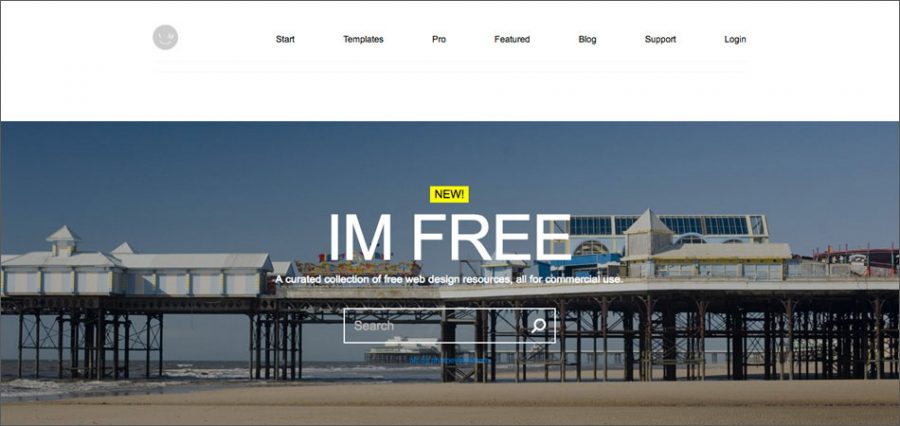 19. Refe
Refe is a site with a wide variety of free images for personal and commercial use. What makes this site unique is that all the images on it are taken with smartphones. With categories ranging from abstract to lifestyle to travel and much more, there are plenty of photos to choose from for your next project.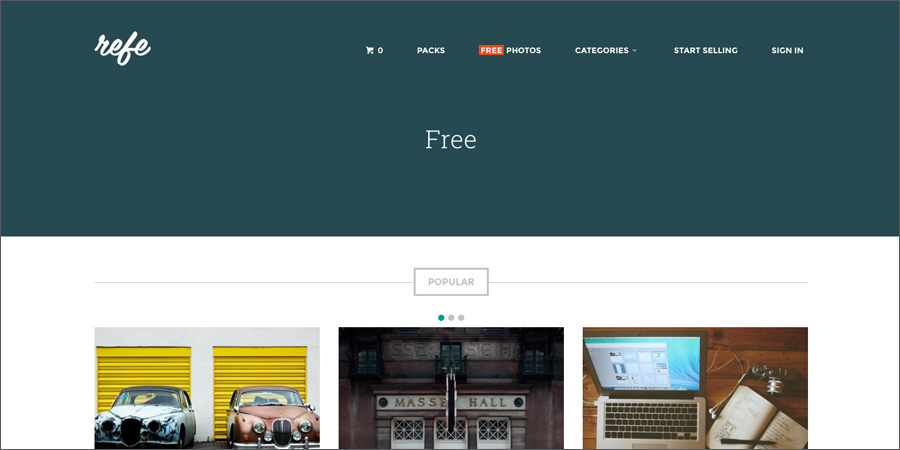 20. Free Stocks
Free Stocks is a stock photo site founded by brothers Kamil and Paweł Malinowski, who also run a web design firm in Olsztyn, Poland. Their site features a wide array of high-quality imagery in the following categories: animals, city and architecture, fashion, food and drinks, nature, objects and technology, and people.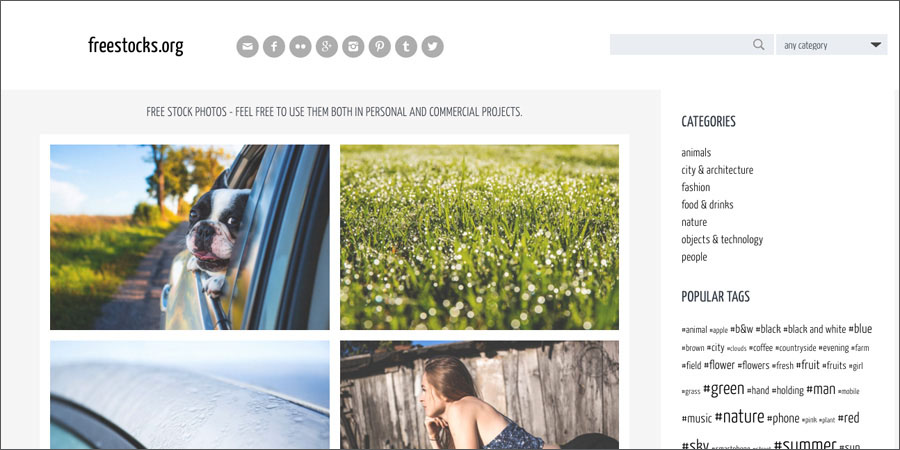 21. Pixabay
Pixabay offers free high-quality photos, vector graphics, illustrations and even videos. They are one of the more popular free stock photography sites, and for good reason. With a large community of photographers, they boast an extensive collection of over 700,000 images (not only photos).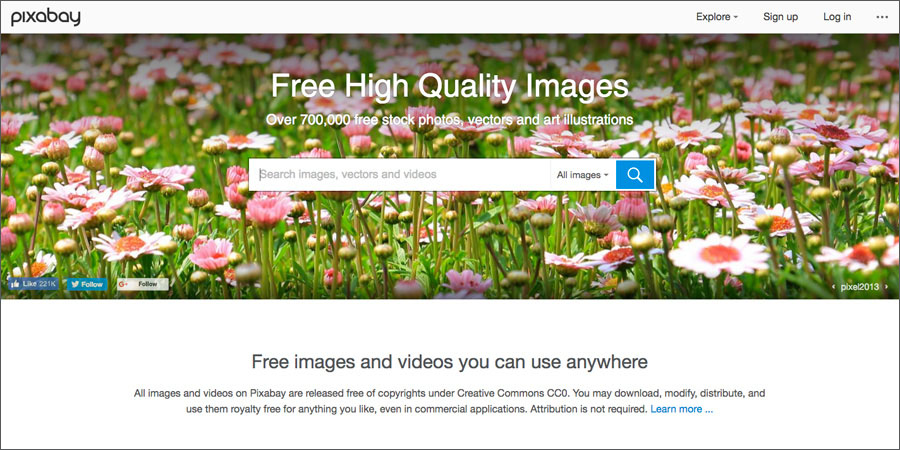 22. Jay Mantri
Another tumblr-hosted site, this one offers a couple hundred high-resolution free stock photos, all taken by photographer Jay Mantri. The images are nice, and range in subject matter from landscapes to urban to nature. It has not been updated since August of 2015.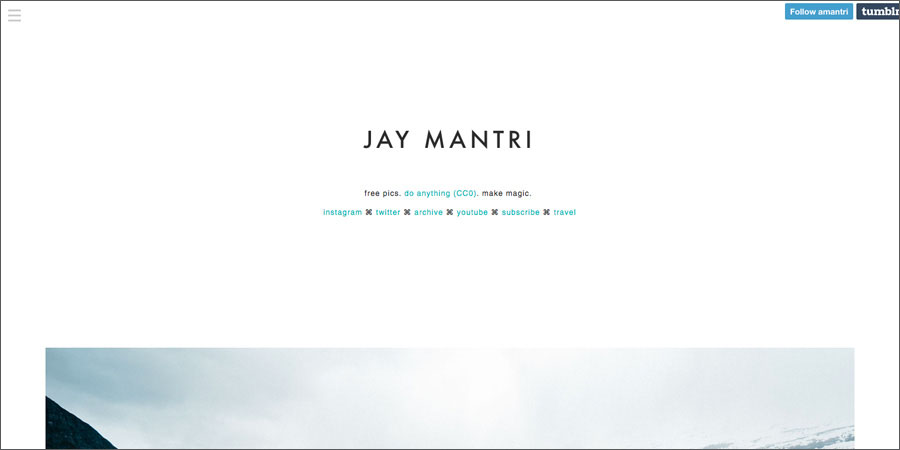 23. Tookapic
This is a stock photography website with both free and premium images. When viewing the free images, filter the results by selecting curated (located in the center above results). When I selected all, there were a bunch of poor quality photos. On Tookapic, you can download the free and premium images without an account, but it's easier if you create one.
24. Picography
Picography offers free stock photos by various photographers. The subject matter in these images is varied, from architecture to animals to urban shots and more. Currently, there are not too many pictures in the collection, but perhaps it will grow over time.
25. MMT Stock
MMT stock features free stock imagery by photographer Jeffrey Betts, who is also a user interface and experience designer (UI/UX) from New York. There are a bunch of different types of pictures, from flowers to landscapes to urban shots and more. You can view the images on top of each other or in a grid, and filter them by category.
26. Kaboom Pics
Kaboom Pics was founded by web designer and photographer Karolina Grabowska. You can easily sort search results by most recent or most popular, and even click on tags below images to see similar images. The main categories are: abstract, city and architecture, fashion, food, landscapes and other.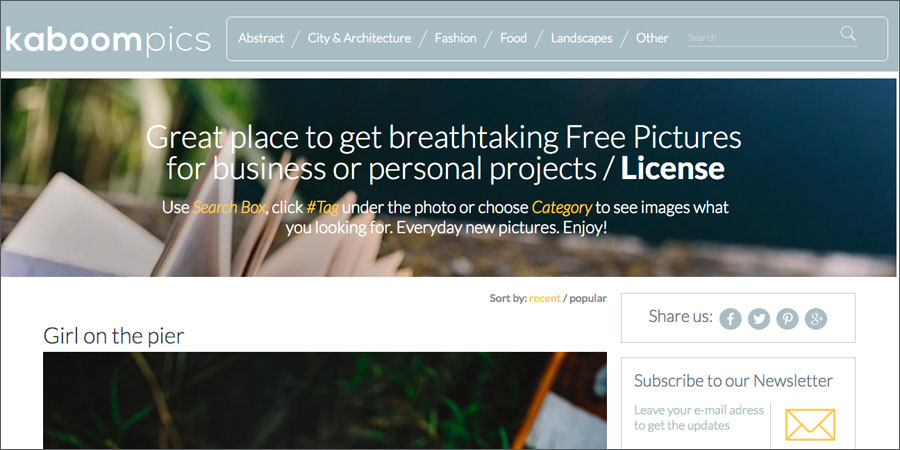 Conclusion
There are a number of free stock photography sites online, including some you may not have known about. Hopefully this list helps you easily find images for your next personal or commercial project. Again, make sure you check the license on all of the above-mentioned sites, as some of them may require attribution.
Did you like this post? Feel free to share it and subscribe to our newsletter for helpful photography tips, resources and information delivered straight to your inbox. Simply enter your email in the opt-in above. Your email address is safe with us, and we will never share it.
Can you think of any free stock photo sites that should on this list? If so, let me know by leaving a comment.